ACG Orangeville
ACG Orangeville has been serving the Orangeville community since 1995. This 5,000 square foot facility is the exclusive body shop for over 4 new car dealerships in the area and is a preferred shop for many insurance companies.
Address: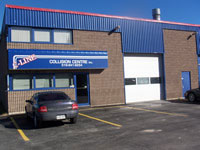 Shop Manager: Bernard Corbet
ACG Orangeville
199 C-Line,
Orangeville, ON
L9W 3W7
Tel: (519) 941-8254
Fax: (519) 941-9275
Toll free: 1-800-250-5514
Email: orangeville@acgatlantic.com
Hours of Operation:
Monday – Friday – 7:00 A.M. to 6:00 P.M.
Saturday – 8:00 A.M. to 12:00 P.M.
Map:
Payment:
Cash, Debit, Visa, Mastercard
Locations
---
---
News
Mark Your Calendars! July 18th 2014 - Nobleton Lakes GC Atlantic Collision Group's (ACG)  22nd Annual ACG Golf Tournament is here again. In keeping with (read more...)
---
Mark Your Calendars! July 19th 2013 - Nobleton Lakes GC Atlantic Collision Group's (ACG)  21st Annual ACG Golf Tournament is here again. In keeping with (read more...)
---
This year marked the 40th anniversary of the Streetsville Bread and Honey Festival, although the weather prediction wasn't favorable, the rain held off and (read more...)
---